Our new house is much closer to the T station than our apartment was, but it is further out on the red line. This gives me a much longer ride and I've been taking the opportunity to get more knitting in. It's hard to knit at home with a active near-toddler so the commute is really the best time I have.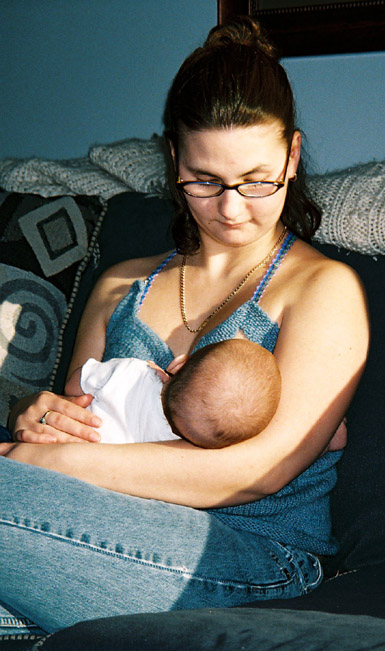 Never going to work for me
Since I not only nurse my daughter but also pump milk at work, I find I have to be mindful of what I wear all the time so that I can have access. With that in mind, I decided to make a nursing sweater. Knitty.com does have a pattern for a
nursing halter
, but while it looks nice, it's not going to offer me any support (I am MUCH more generously endowed than the model) so I had to think of something else. I like the idea of something I could lift rather than pull down so decided to work something up myself.
Work in progress
Knitty had a pattern for a very easy pullover called
Tempting
that gave me an idea. The eyelet holes at the top might just work as a decorative edge for somthing that lifts up from the middle. I decided to use this pattern for the bottom and add the eyelets halfway. I also bound off the front half and then continued the top using the pattern for
Tempting II
. Pardon the stained office carpet, but you can see here how the two peices are put together with a gap in the front. The ribbon will be thread in the middle, tying the top half down. I may add a discreet button or two as well to make sure it stays in place. I then need only untie the ribbon, lift and nurse!
Hopefuly once I finish and weave in ALLLL the ends the humidity will drop and I'll have a chance to wear it. It actually knit up fairly quickly so I may even try another one to add to my autumn wardrobe. Now if only I could get a sewing room together at home I could try for some skirts or trousers to complete the look.